News & Events
Barry Camp Scholarship winner announced
Congratulations Remy Alff!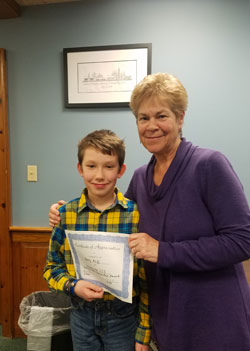 The Candia Conservation Commission awarded its 5th annual Barry Conservation Camp scholarship to Remy Alff, a 5th grader at the Moore School.
Remy will attend the 2019 Conservation Camp 4-H On The Wild Side (age 10-16) in July where he will "Experience nature and reunite with the great outdoors. Paddle a canoe, fillet a fish and cook it over an open fire, sleep under the stars, learn how to observe nature, climb a mountain, swim in a pond, create nature crafts and more. Truly experience the great outdoors." Congratulations Remy!
NEW - CCC KIDS Club
Students get out and bond with nature in the new CCC KIDS club.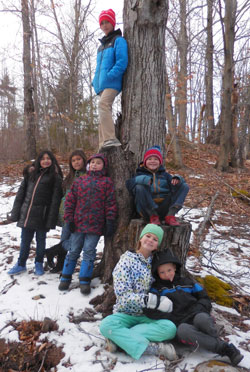 Mrs. Lindsey's new Candia Conservation Commission KIDS Club - the "CCC KIDS Club" - met for the first time this Monday, January 7 at the Smyth Library. The purpose of this club is to give students an opportunity to get out and bond with nature! It is the first step in helping children connect with their natural environment and natural resources so that when they become citizens in their communities, they will know the importance of protecting the woods, streams, ponds, and wetlands that they have walked through and loved.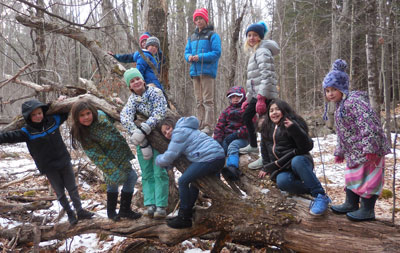 2018/2019 Newsletter Available
A publication of the CCC listing our ongoing and upcoming projects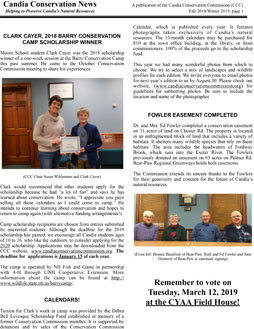 Our Fall 2018/Winter 2019 Newsletter is available now. Topics this year include information about our Barry Conservation Camp scholarship, the completion of the Fowler easement, the presentation on climate change, our Old Home Day booth, and a note from our chair.
Candia Conservation Calendar
2019 calendar available for purchase.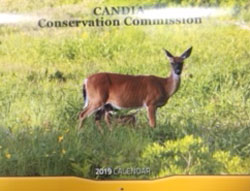 The 2019 Candia Conservation Commission Calendars are available for purchase ($10/each) at the Candia Town Hall, Smyth Public Library, and any Conservation Commission Member. All funds are used to support the Debra Bell Levesque Scholarship to Barry Conservation Camp.
---
2020 Calendar Photo Submissions. The Candia Conservation Commission is looking ahead for photos for the 2020 Candia Conservation Calendar. All proceeds go to the Debra Bell Levesque Scholarship Fund and provide for a Candia student to attend one week at Barry Conservation Camp in Berlin, NH.
Find out more about the Debra Bell Levesque Scholarship.
Photo Submission Information:
Photos must be taken in Candia and be of wildlife and or landscapes of our beautiful town.
Photos should be at least 300 dpi.
Photos should be in focus (with no blurriness) when enlarged to a 11" x 8" format.
Email your photos to photos@candiaconservationcommission.org. Please put "Calendar Contest" in the subject line and all relevant information in the body (including the photographer's name, and where and when the photo was taken).
Submission deadline is September 1, 2019.
Check out our Photo Gallery to view the 2017 calendar photos.