News & Events
Candia Conservation Calendar
2020 calendars available for purchase!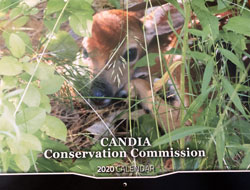 The 2020 Candia Conservation Commission Calendars are available for purchase ($10/each) at the Candia Town Hall, Smyth Public Library, and any Conservation Commission Member. All funds are used to support the Debra Bell Levesque Scholarship to Barry Conservation Camp.
Every year we have more photos from which to choose. We are grateful the word is getting out and so many of you are sharing your pictures with us. We think this year's edition is pretty special and we thank all the photographers who submitted their work to us.
Check out our Photo Gallery to view calendar photos from previous years.