News & Events
Barry Camp Scholarship winner announced
Congratulations Remy Alff!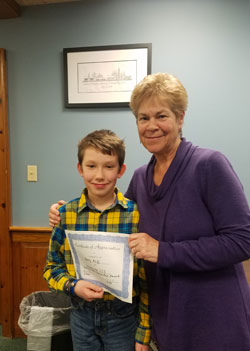 The Candia Conservation Commission awarded its 5th annual Barry Conservation Camp scholarship to Remy Alff, a 5th grader at the Moore School.
Remy will attend the 2019 Conservation Camp 4-H On The Wild Side (age 10-16) in July where he will "Experience nature and reunite with the great outdoors. Paddle a canoe, fillet a fish and cook it over an open fire, sleep under the stars, learn how to observe nature, climb a mountain, swim in a pond, create nature crafts and more. Truly experience the great outdoors." Congratulations Remy!