News & Events
Barry Camp Scholarship winner
Congratulations Randy Bruno!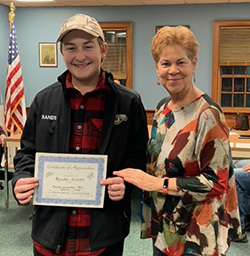 At the February Candia Conservation Commission meeting, 7th grade student Randy Bruno was awarded the Candia Conservation Commission Scholarship to Barry Conservation Camp for a week this summer up in Berlin. Randy attended the meeting and shared his enthusiasm for the great outdoors.
Randy will attend the 2022 Conservation Camp 4-H On The Wild Side (age 10-16) in July where he will "Experience nature and reunite with the great outdoors. He may have a chance to create a meal from gathered plants, fillet a fish and cook it over an open fire, sleep under the stars, climb a mountain, swim in a pond, create nature crafts, and more." Congratulations Randy!